Burning solids such as paper,wood,fibers & Plastics etc.

Burning Liquid such as oil,petrol, thinner,kerosene etc.

Burning Gases such as butane, choride, natural propane,vinyl chloride,natural gases & live electrical fire

Fire Protection Systems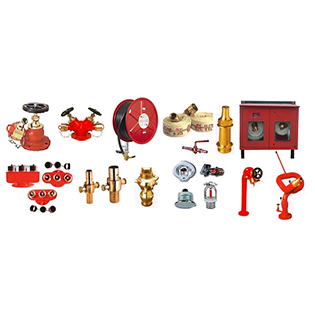 Veer Fire is a leading name manufacturing fire protection and fire hydrant systems. We specialize in providing protection against fire by offering complete fire protection systems. Protection against fire begins with installing systems that alert you at the first sight of fire. This also includes systems that act on their own and prevents fire from spreading. Our fire protection systems include:
Alert Sensor and Alarms that are the first level of protection. The range of products in this category includes smoke detectors, bell alarms, heat detectors, etc.
Sprinkler Systems that act on their own and sprinkle foam, water, and other mediums that prevent fire from spreading.
Extinguishing Systems that include fire extinguishers, sand buckets, water pipes that are installed in facilities so that people can fight fire and reach to safety.
Firefighting Accessories that enhance the above systems. This includes accessories like fireman axe, blankets, etc. that can help you get out of dangerous situations.
A combination of these products makes an efficient fire protection system. Veer Fire is committed to delivering quality firefighting systems by incorporating technologically advanced manufacturing methods and adhering to quality standards. The sensitive situations in which our products are used makes it important for us to have a quality checking procedure in place.
Fire Hydrant Systems India
A crucial part of fire protection systems is the installation of fire hydrant systems that are a must in facilities that use combustible substances. Veer Fire is an expert in manufacturing and installing hydrant systems that are required by fire fighters to fight massive fires. A hydrant system is required to provide pressure that helps in putting the fire off. Our fire hydrant systems are:
Easy to install
Equipped with pumps that can run on diesel or electricity
Available in different sizes
Available in automatic and semi-automatic variants
At Veer Fire, we comply with all the standard requirements that are an assurance of the quality of fire hydrants systems. All our products and systems are ISI marked which is a quality symbol in India. We adhere to guidelines that are universal codes to firefighters like color of a fire hydrant system symbolizes the pressure that it can offer.
Our range of firefighting equipment indicates the expertise and dedication that we have. We started of with a small range and have slowly expanded to incorporate all types of firefighting equipment ranging from small equipment for domestic use to colossal systems for big facilities. We also offer products for firefighters like safety helmets, boots, etc.
If you are looking for anything related to fire safety equipment, you are sure to find that in Veer Fire's collection. Contact us at info@veerfire.com for information on our range of fire hydrant and fire protection systems.