Burning solids such as paper,wood,fibers & Plastics etc.

Burning Liquid such as oil,petrol, thinner,kerosene etc.

Burning Gases such as butane, choride, natural propane,vinyl chloride,natural gases & live electrical fire

Carbon Dioxide Fire Extinguishers Manufacturers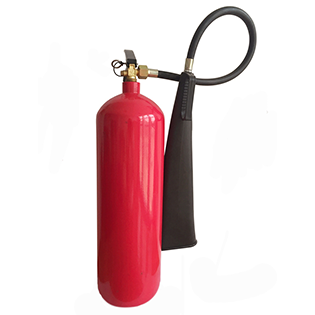 Veer Fire offers high-performing fire extinguishing equipments in Ahmedabad. Apart from our ABC stored pressure type fire extinguishers, we do supply Carbon Dioxide (Co2) type fire extinguishers in major cities of India. One can make an optimum utilization of our CO2 type fire extinguishers in case of fire incidents caused by electricity, flammable liquids and gases. Once the extinguisher is used in fire, it is necessary to have it refilled right away for future safety. We, at Veer Fire, completely release, clean, supervise and recharge the fire extinguishers after usage on regular basis.
Besides offering fire extinguishers range in Ahmedabad, we also supply our range in different parts of Gujarat and Mumbai. Our primary focus is on our clients' safety with cost efficient and well-maintained fire fighting systems and extinguishers.
Carbon Dioxide Fire Extinguishers Technical Specifications:
| | | | |
| --- | --- | --- | --- |
| Model | VFP Co2 2 | VFP Co2 3 | Vfp cO2 4 |
| Capacity | 2 Kgs. | 3 Kgs. | 4.5 Kgs. |
| ISS No | 15683 | 15683 | 15683 |
| Fire Rating | 8B, C | 13B, C | 21B, C |
| Operating Temperature | -30°c to +55 °C | -30°c to +55 °C | -30°c to +55° C |
| Min .Jet Length (in mtrs) | 1 Mtrs. | 1 Mtrs. | 2 Mtrs. |
| Discharge Percentage Min. | 95 % | 95 % | 95 % |
| Discharge Time Min. | 8 Seconds | 8 Seconds | 8 Seconds |
| Cylinder | Seamless IS: 7285 | Seamless IS: 7285 | Seamless IS: 7285 |
| Test Pressure | 250Kgf / Cm² | 250Kgf / Cm² | 250Kgf / Cm² |
| Operating Valves | Squeeze Grip Type | Squeeze Grip Type | Squeeze Grip Type |
| Extinguisher media | Co2 Gas IS: 15222 | Co2 Gas IS: 15222 | Co2 Gas IS: 15222 |
| Expellant | Self | Self | Self |
| Anti Corrosive Treatment | Up Right | Up Right | Up Right |
| Painting | Enamel Paint IS: 5 Shade 536 / 537 | Enamel Paint IS: 5 Shade 536 / 537 | Enamel Paint IS: 5 Shade 536 / 537 |
| | | | |
| --- | --- | --- | --- |
| Model | VFP Co2 6.5 | VFP Co2 9 | VFP Co2 22.5 |
| Capacity | 6.5 Kgs. | 9 Kgs. | 22.5 Kgs. |
| ISS No | 2878 | 2878 | 2878 |
| Fire Rating | - | - | - |
| Operating Temperature | - | - | - |
| Min. Jet Length (in mtrs) | 2 Mtrs. | 2 Mtrs. | 2 Mtrs. |
| Discharge Percentage Min | 95% | 95% | 95% |
| Discharge Time Min | 10-20 Seconds | 15-36 Seconds | 20-60 Seconds |
| Cylinder | Seamless IS: 7285 | Seamless IS: 7285 | Seamless IS: 7285 |
| Test Pressure | 250Kgf / Cm² | 250Kgf / Cm² | 250Kgf / Cm² |
| Operating Valves | Squeeze Grip / Wheel Type | Squeeze Grip / Wheel Type | Squeeze Grip / Wheel Type |
| Extinguisher media | Co2 Gas IS: 15222 | Co2 Gas IS: 15222 | Co2 Gas IS: 15222 |
| Expellant | Self | Self | Self |
| Anti Corrosive Treatment | - | - | - |
| Painting | Enamel Paint IS: 5 Shade 536 / 537 | Enamel Paint IS: 5 Shade 536 / 537 | Enamel Paint IS: 5 Shade 536 / 537 |