Burning solids such as paper,wood,fibers & Plastics etc.

Burning Liquid such as oil,petrol, thinner,kerosene etc.

Burning Gases such as butane, choride, natural propane,vinyl chloride,natural gases & live electrical fire

Dry Powder Fire Extinguishers Suppliers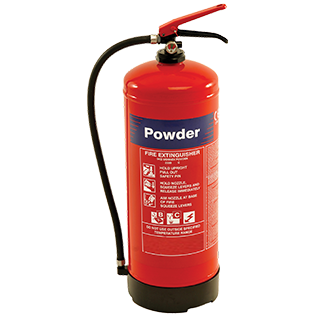 We at Veerfire are manufacturing wide range of fire extinguishers at our production unit. Our product range includes - ABC type dry powder fire extinguisher, Dry powder fire extinguisher, CO2 fire extinguisher, water CO2 type fire extinguisher and several other fire extinguishing equipments.
These are further exported to various cities mainly in Mumbai, Gujarat, Pune, Ahmedabad, etc and highly suitable for wide industrial applications.
Quality Control For Fire Extinguishers
We are following strict quality guidelines while manufacturing our products and we always use safety devices and fire extinguishers in extreme fire conditions. Our experts will guide you about the ideal conditions when to use fire extinguishers for obtaining maximum benefit.
Working Principle Of Fire Extinguishers
We are following the PASS (Pull-Aim-Squeeze-Sweep) principle at our production unit. Pull the pin from the handle, aim the nozzle at the fire base, squeeze the handle until fire extinguish & sweep the nozzle in the end.
We also provide the custom solutions to our clients that are highly appreciated by industries. To know more on to our wide product range and their pricing, contact us right now.
Dry Powder Fire Extinguishers Technical Specifications:
| | | | |
| --- | --- | --- | --- |
| Model | VFPD 4 | VFPD 6 | VFPD 9 |
| Capacity | 4 Kgs. | 6 Kgs. | 9 Kgs. |
| ISS No. | 15683 | 15683 | 15683 |
| Fire Rating | 21B, C | 34B, C | 34B, C |
| Operating Temperature | -20°C to +55°C | -20°C to + 55 °C | -20°C to + 55 °C |
| Min. Jet Length (in mtrs) | 2 Mtrs. | 2 Mtrs. | 2 Mtrs. |
| Discharge Percentage Min | 85% | 85% | 85% |
| Discharge Time Min | 13 Second | 13 Second | 13 Second |
| Charge Pressure | - | - | - |
| Test Pressure | 35 Kgf / Cm² | 35 Kgf / Cm² | 35 Kgf / Cm² |
| Operating Valves | Squeeze Grip Type | Squeeze Grip Type | Squeeze Grip Type |
| Extinguisher media | Dry Powder 4308 / 14609 | Dry Powder 4308 / 14609 | Dry Powder 4308 / 14609 |
| Expellant | Co2 | Co2 | Co2 |
| Anti Corrosive Treatment | Phosphating (7 Tanks) | Phosphating (7 Tanks) | Phosphating (7 Tanks) |
| Painting | Epoxy Polyester Powder Coating | Epoxy Polyester Powder Coating | Epoxy Polyester Powder Coating |
| | | | |
| --- | --- | --- | --- |
| Model | VFPD 25 | VFPD 50 | VFPD 75 |
| Capacity | 25 Kgs. | 50 Kgs. | 75 Kgs. |
| ISS No | 10658 | 10658 | 10658 |
| Fire Rating | - | - | - |
| Operating Temprature | - | - | - |
| Min. Jet Length(in mtrs) | 6 Mtrs. | 8 Mtrs. | 10 Mtrs. |
| Discharge Percentage Min. | 85% | 85% | 85% |
| Discharge Time Min | 25 Second | 40 Seconds | 50 Seconds |
| Charge Pressure | - | - | |
| Test Pressure | 30Kgf/ Cm² | 30Kgf/ Cm² | 30Kgf/ Cm² |
| Operating Valves | Conventional | Conventional | Conventional |
| Extinguisher media | Dry Powder 4308 / 14609 | Dry Powder 4308 / 14609 | Dry Powder 4308 / 14609 |
| Expellant | Co2 | Co2 | Co2 |
| Anti Corrosive Treatment | Phosphating (7 Tanks) | Phosphating (7 Tanks) | Phosphating (7 Tanks) |
| Painting | Epoxy Polyester Powder Coating | Epoxy Polyester Powder Coating | Epoxy Polyester Powder Coating |